Today is Tuesday 3. October, 2023 22:32
Year 2012 according to the Chinese calendar is sign of Dragon and the element of Water.

Tarot card of the Day
Four of cups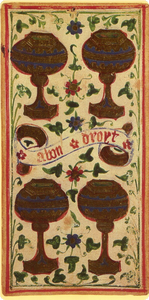 Satiety is the key word. What more than working relationship can you possibly wish for? But being too intimate might also lead to neglect and satiety. Even a long lasting relationship needs a new spark. It is necessary to find new interests, hobbies and friends (also for those who are not in love).